Aevee Bee, the writer of the game, was kind enough to answer some questions via email during the long covid lockdown months of 2021.
Q. Was there a starting idea or key phase that sparked the process for making We Know The Devil (WKTD)?
I've mentioned this on a few occasions but I was working on an idea for a storytelling tabletop game and used the premise for WKTD. All the players would have a guilty secret they wanted to hide while drawing closer to the other characters.
I might work on that idea again someday, but when we decided to make a short visual novel together it had been the particular idea I had been thinking about the most at the time, so that's what I ended up making the game about.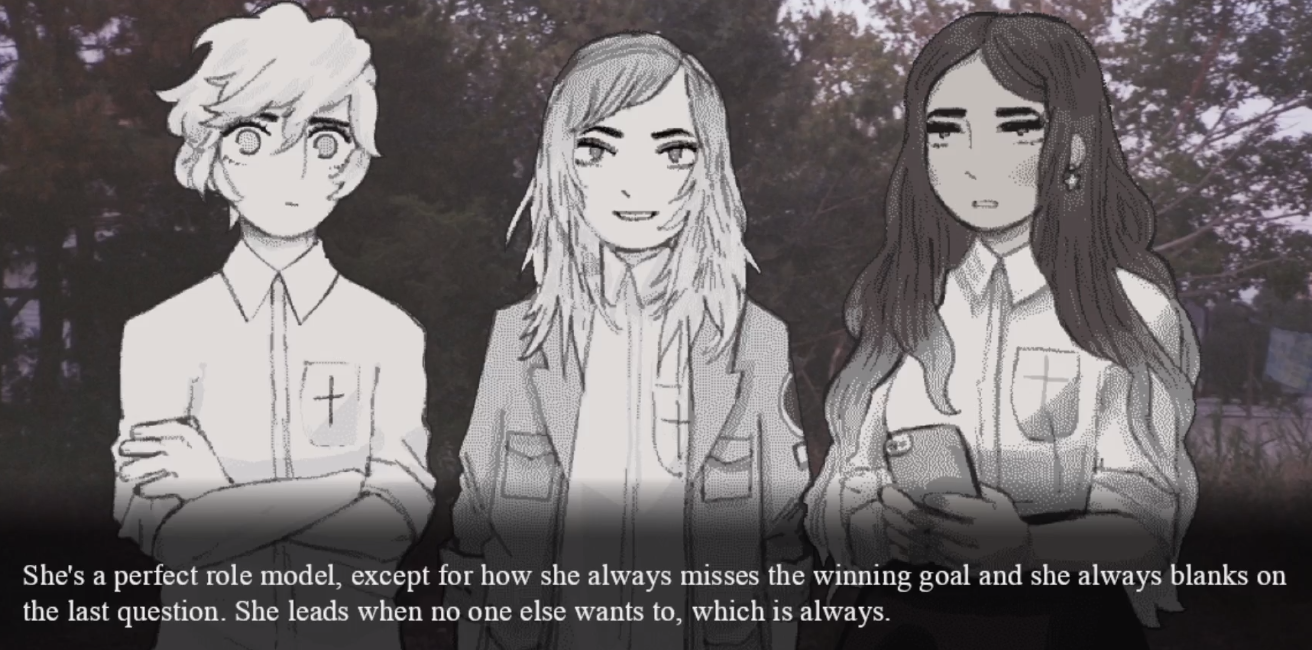 "the first thing I decided was that it would be a story about excluding people"
Q. We Know The Devil is one of the few queer games that went through the voting system that was Steam Greenlight. What was that like?
Our publisher handled that part so I don't remember the details very well. I remember the lack of communication and opacity of Steam's process being annoying but then they let us in without much trouble.
Q. One of the interesting components of We Know The Devil is at various points in the game, one character gets excluded from the conversation. Did that gameplay mechanic evolve from the story you were writing or did the mechanic inspire the narrative?
I imagine everyone works differently but I could have only started with the mechanics. It's so difficult for me to write without structure that if I'm not working on something where it's imposed for me I have to create it myself, so that's what I did. The math of the choices and dichotomy came before I knew what any choice would be.
Of course, the first thing I decided was that it would be a story about excluding people, and I knew who the characters were and what the situation they were in was.
That foundation came first, but it's one thing to have an idea of what a story is about and another to write it. So the structure was the simplest way I could imagine a mechanic that was about what the story was about.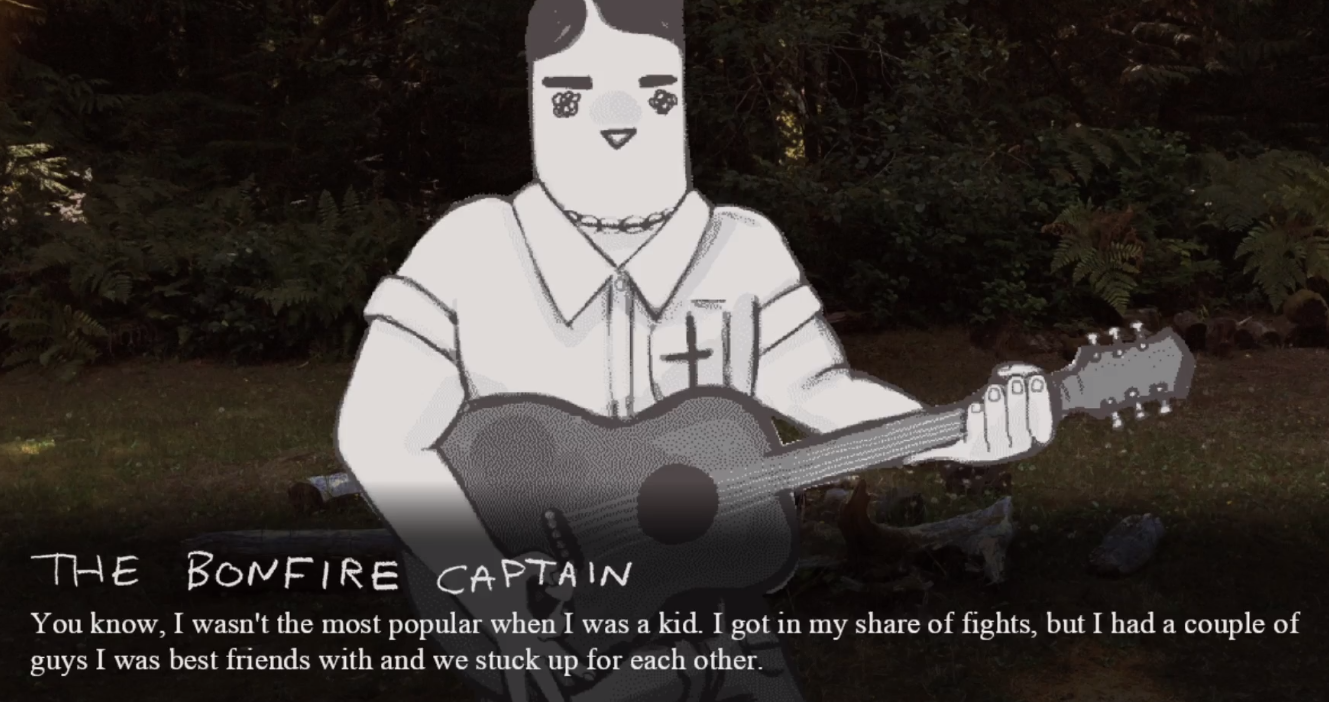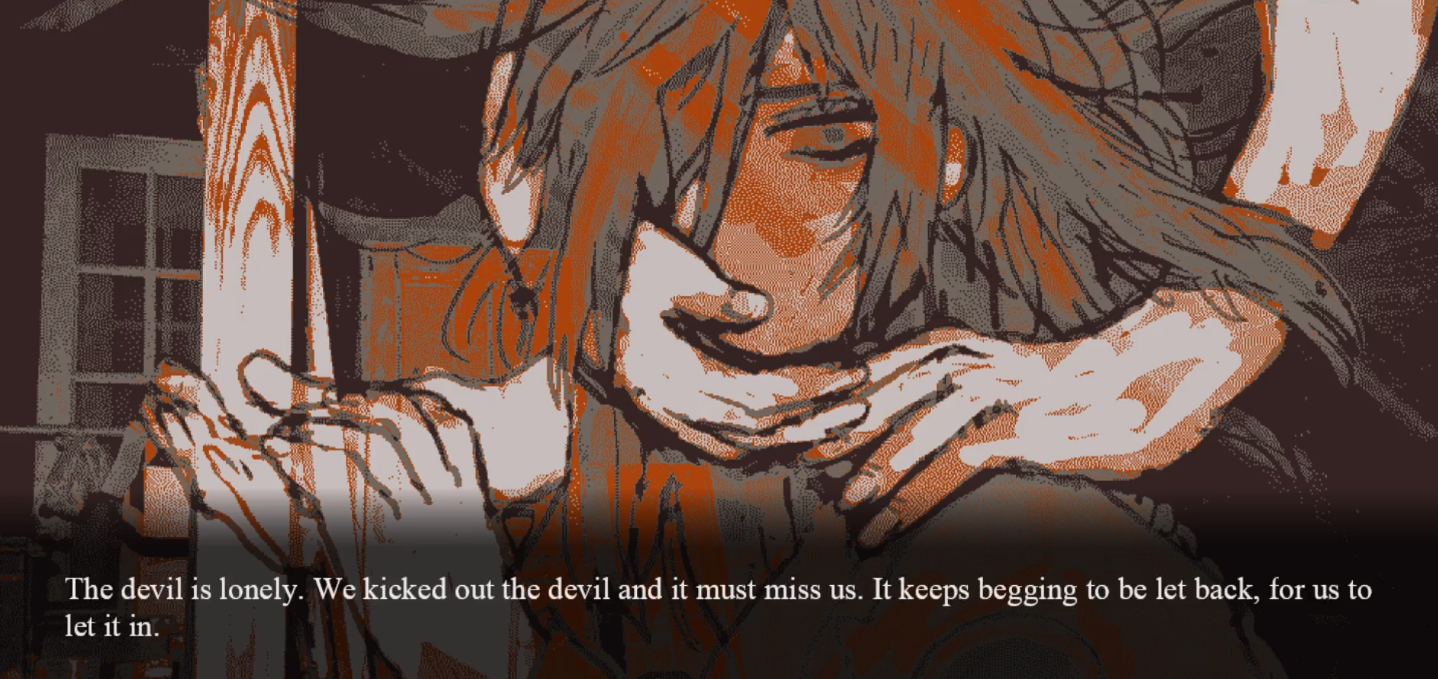 "With every team and every project we have to reinvent and relearn how to make a video game"
Q. Looking back at the game now with some distance, what stands out for you?
I have so much trouble revisiting my old work, even if my work is old by a few days. I think the audacity to believe we could do it at all stands out the most?
Making that game allowed me to do everything else since the day we decided to take making it seriously. My focus on process rather than content might be boring, I realize, but no one actually knows how to make a video game.
With every team and every project we have to reinvent and relearn how to make a video game, and you only really learn how to do that by making a video game.
So I look back on it with love and respect as an experience that taught me how to express what I wanted to express in that game, because I still want to express it, more strongly and in new ways.
The game, being finished, exists now for other people to find meaning in, so I think of it now as a guidepost for how to keep doing what I love to do, even when it is confusing and difficult. I'm harsh on myself, but I'm glad people still have a lot of love for that game, because it helps me to love it too, and see it more clearly.
Q. We're a queer games festival but every word in the phrase "queer games festival" is always up for debate. Do you feel there is a queer games scene? What would you like to see queer game devs doing?
The queer games scene used to be very small; it might have been better to describe what people used to think of as 'the queer game scene' as a bit more of a clique, or simply a few people working at the same time and in the same places who generally knew each other.
A games scene so big and diverse that I no longer personally know everyone in it is a wonderful evolution honestly.
Fantastic new games come out from incredible young people I've never heard of before who have their own communities and friendships that empower them, and that's what I'd wish for everyone.
You need that support as an indie, and having people who you truly love be part of your community is both what makes the work possible and worthwhile.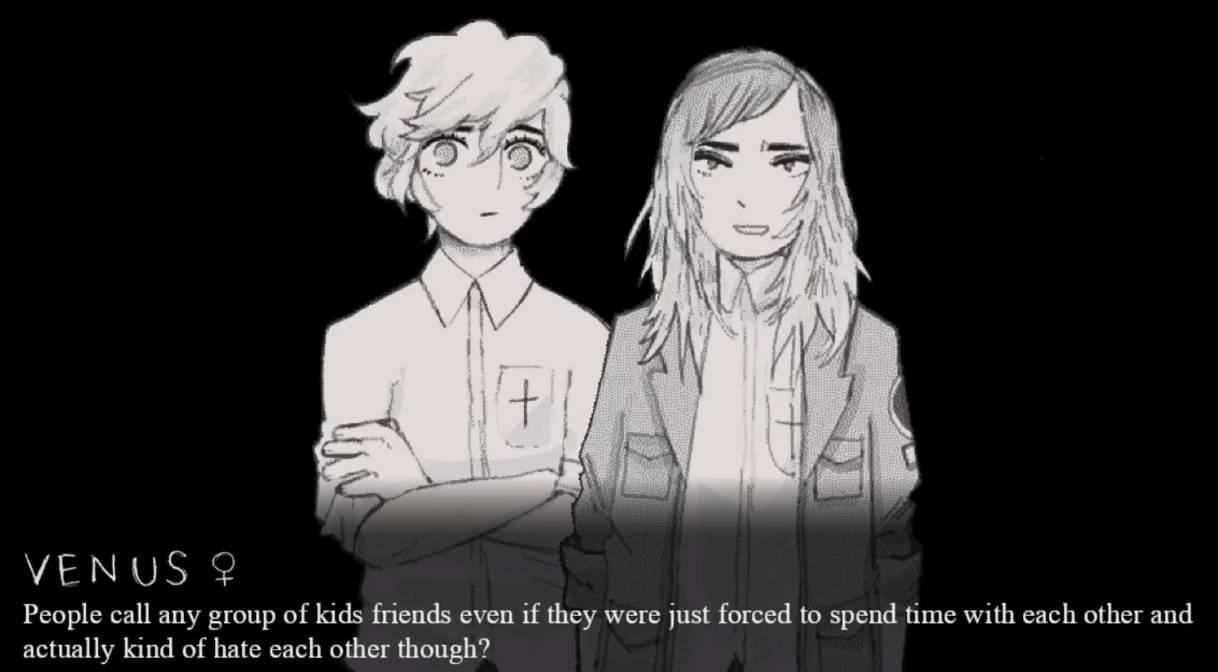 Q. If you have an upcoming project, can you tell us about it?
Unfortunately no! Though I think Neon White, which I did a lot of early story work on, is incredibly cool and going to be very big. I hope people enjoy it, because so many other talented people worked on it.
I'm also working on exciting things I can't discuss at Future Club. I do continue to work on personal projects as well, very, very slowly.
There are some things I could only make as part of a team and some things I'd like to make on my own, but I have to be patient and pace myself.
After making WKTD in a burst of energy, I'm appreciating having time to learn new skills and get to take a long path, now that I have the support to do so.
We Know The Devil is available now.